Liquid wound dressing
Product Detail
Product Tags
Product name: Liquid wound dressing
Product specifications: 28ML
Scope of application: Form a protective layer on the wound surface to cause a physical barrier. Used for small wounds, abrasions, cuts and other superficial wounds and surrounding skin care (such as stoma skin care)
Product description: It is usually a solution, and the ingredients do not have pharmacological effects. The contained ingredients will not be absorbed by the body. Provided non-sterile.
Main components: liquid storage bottle (HDPE) and liquid (liquid is composed of acrylic resin copolymer, polyethylbenzyldisilane, hexamethyldisiloxane).
1. Before using this product, the wound should be debrided and disinfected.
2. Open the package and take out the product, and spray it on the wound site to be treated.
Contraindications, matters needing attention
1. People who are allergic to this product are prohibited;
2. Avoid direct spraying in the eyes and avoid direct inhalation;
3. It is forbidden to spray on open flames or any hot materials.
Analysis of the advantages of this product for similar products in the market:
Compared with other liquid dressings, the advantages:
1. This product does not add flavor or alcohol.
2. This product does not contain pigments or fluorescent agents.
3. Does not contain hormones or Nepalese gold ester preservatives
4. This product sprays evenly, sprays gently on the skin, and will not cause low-temperature frostbite to the skin.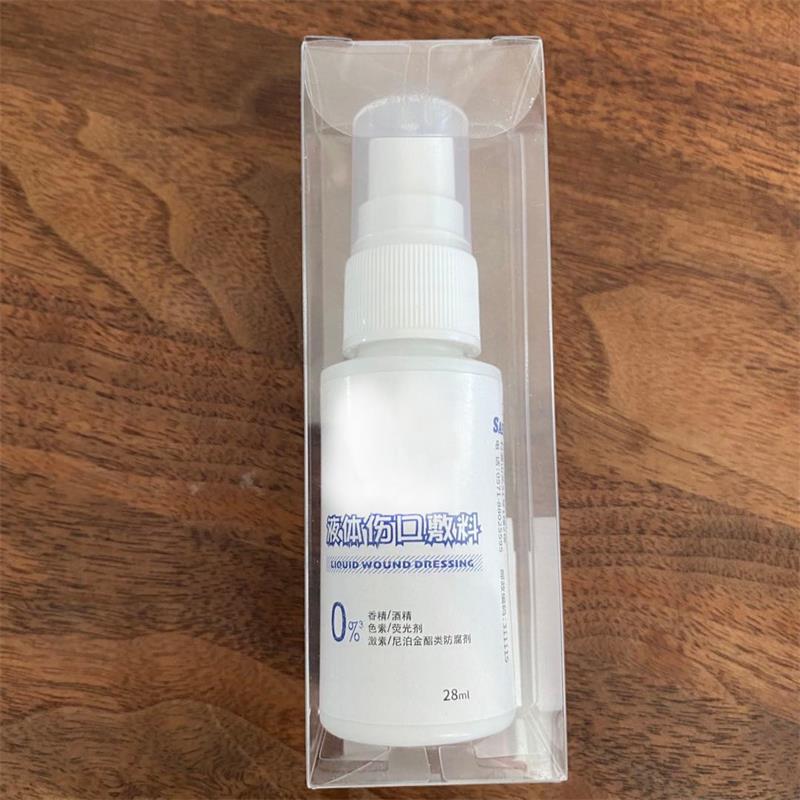 ---
Next:
---